Why Your Cleanse Day Isn't Complete Without Cleanse for Life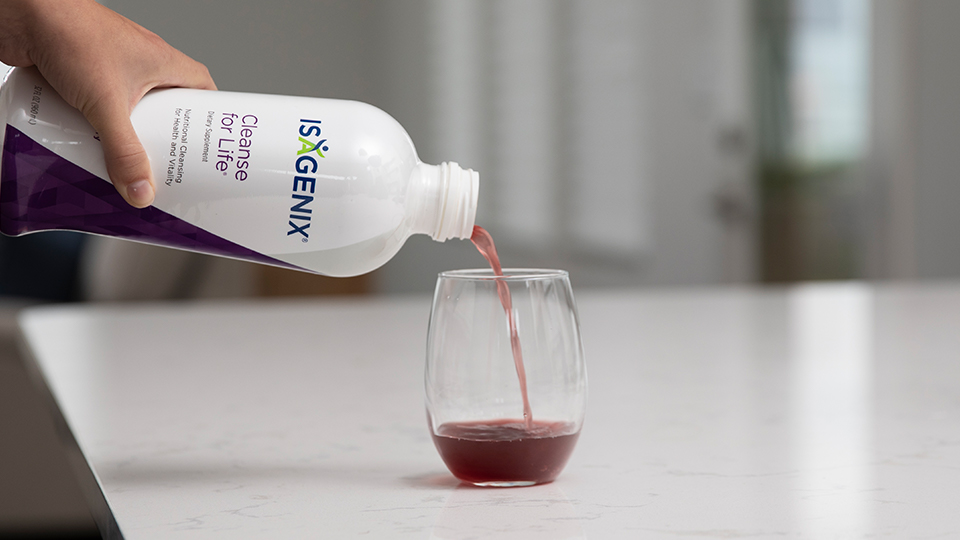 An Isagenix Cleanse Day is a method of nutritionally supported intermittent fasting, and Cleanse Days aren't complete without the benefits of Cleanse for Life®.
Intermittent Fasting With Cleanse for Life
Intermittent fasting has become an increasingly popular strategy for achieving health and weight loss goals — for good reason. Mounting scientific research identifies the advantages of intermittent fasting, from support for weight loss and improvements in body composition to aiding in appetite control and benefits for metabolism (1-4). Despite the recent popularity of intermittent fasting, it's always been a core component of the Isagenix System.
Cleanse Days go beyond ordinary fasting by incorporating nutritional strategies that support your results. On a Cleanse Day, you drink four 4-ounce servings of Cleanse for Life, spaced evenly throughout the day. You'll also choose from Cleanse Day support tools, or small snacks, to help you manage cravings and receive steady energy while keeping calories very low. The support of Cleanse for Life helps you feel nourished and energized, allowing you to stay focused on your health and weight loss goals.
The Nutritional Cleansing Difference
Cleanse for Life is formulated with a nourishing blend of vitamins and botanical ingredients to reinforce your body's natural process of renewal and detoxification. Peppermint and aloe soothe the digestive system, nourishing B vitamins support metabolism, and a blend of adaptogenic herbs help reinforce the body's resistance to stress.
A common concern with cleanses is the use of harsh laxatives and diuretic ingredients, but Cleanse for Life does not contain any laxatives or diuretics. Unlike other types of cleanses, the Isagenix System of nutritional cleansing is clinically tested to be effective and safe (1, 5-6).
Nutrients for Cellular Support
Cleanse for Life is scientifically tested for its benefits in supporting detoxification pathways in cells, which can be especially helpful on a Cleanse Day when the body's natural detoxification systems work with fasting (7).
Most of us have been exposed to common environmental pollutants such as polychlorinated biphenyls, or PCBs, for example. These environmental contaminants gradually accumulate in body fat through repeated exposure over time. When you are fasting, your body draws on stored energy from fat. As your body releases these stores into the bloodstream for energy, contaminants like PCBs are also released (8,9).
As part of an Isagenix System of Shake Days and Cleanse Days, Cleanse for Life provided nutritional support in a study investigating the release of toxins during weight loss (9). In this study, an Isagenix System was compared to a heart-healthy diet comprised of ordinary, nutritious foods. Researchers found that nourishment provided by Isagenix products was associated with a reduction in measures of oxidative stress and improved antioxidant status during weight loss (9).
Your Essential Cleanse Day Partner
The blend of vitamins and botanical ingredients in Cleanse for Life helps reinforce your body's natural process of detoxification, which can be especially helpful on Cleanse Days. A Cleanse Day simply isn't complete without the benefits of Cleanse for Life.
References
Klempel MC, Kroeger CM, Bhutani S, Trepanowski JF, Varady KA. Intermittent fasting combined with calorie restriction is effective for weight loss and cardio-protection in obese women. Nutr J. 2012 Nov 21;11:98.
Harvie MN, Pegington M, Mattson MP et al. The effects of intermittent or continuous energy restriction on weight loss and metabolic disease risk markers: a randomized trial in young overweight women. Int J Obes (Lond) 2011;35:714-27.
Hoddy KK, Gibbons C, Kroeger CM, Trepanowski JF, Barnosky A, Bhutani S, Gabel K, Finlayson G, Varady KA. Changes in hunger and fullness in relation to gut peptides before and after 8 weeks of alternate day fasting. Clin Nutr. 2016 Dec;35(6):1380-1385. doi: 10.1016/j.clnu.2016.03.011.
Heilbronn LK1, Smith SR, Martin CK, Anton SD, Ravussin E. Alternate-day fasting in nonobese subjects: effects on body weight, body composition, and energy metabolism. Am J Clin Nutr. 2005 Jan;81(1):69-73.
Kroeger CM, Klempel MC, Bhutani S, Trepanowski JF, Tangney CC & Varady KA. Improvement in coronary heart disease risk factors during an intermittent fasting/calorie restriction regimen: Relationship to adipokine modulations. Nutr Metab. 2012 Oct 31; 9(1):98.
Arciero PJ, Edmonds R, He F, Ward E, Gumpricht E, Mohr A, Ormsbee MJ & Astrup A. Protein-Pacing Caloric-Restriction Enhances Body Composition Similarly in Obese Men and Women during Weight Loss and Sustains Efficacy during Long-Term Weight Maintenance. Nutrients 2016, 8(8), 476.
Gumpricht E, Kumar R, Hussain A, Sabarwal A, Ramteke A, Cho S, Deep G. A Natural Herbal Beverage Exhibits Significant Cytoprotection and Promotes Nrf-2 Activation in Cells April 2015 FASEB J 2015;29 (Supplement) Abstract # 607.1.
La Merrill M, Emond C, Kim MJ, Antignac JP, Le Bizec B, Clément K, Birnbaum LS, Barouki R. Toxicological function of adipose tissue: focus on persistent organic pollutants. Environ Health Perspect. 2013 Feb;121(2):162-9. doi: 10.1289/ehp.1205485.
He F, Zuo L, Ward E, Arciero PJ. Serum Polychlorinated Biphenyls Increase and Oxidative Stress Decreases with a Protein-Pacing Caloric Restriction Diet in Obese Men and Women. Int. J. Environ. Res. Public Health 2017, 14(1), 59; doi:10.3390/ijerph14010059.