Infused with an innovative blend of marine collagen peptides and powerful botanicals, Collagen Elixir indulges your skin with both beauty and nourishment from the inside out.
Collagen Elixir
Glow Radiantly, Live Beautifully
Helps reduce the appearance of fine lines and wrinkles by improving skin elasticity with 5 grams of marine collagen peptides.
Maintain a more youthful appearance with increased collagen production.
Protect against the damaging effects of photoaging.
Enjoy an excellent source of vitamin C, zinc, and biotin.
Boast a healthy glow with a powerful beauty blend of superfoods.
Experience a glow up with extra support for hair and nails.
Taste the glow of wild berries and hints of sweet botanicals.
HOW your amazing services helped
FAQ'S
Ingredients + Nutrition
It's all about keeping nature beautiful, just like you.
Made with marine peptides from responsibly caught cod and pollock sourced from the Scandinavian seas.
100% recyclable
These little impermeable glass bottles are not just pretty to look at. They keep the elixir fresh with no artificial preservatives — that's less unnecessary waste for you and the Earth.
What's Inside
A Collagen Glow From The Inside Out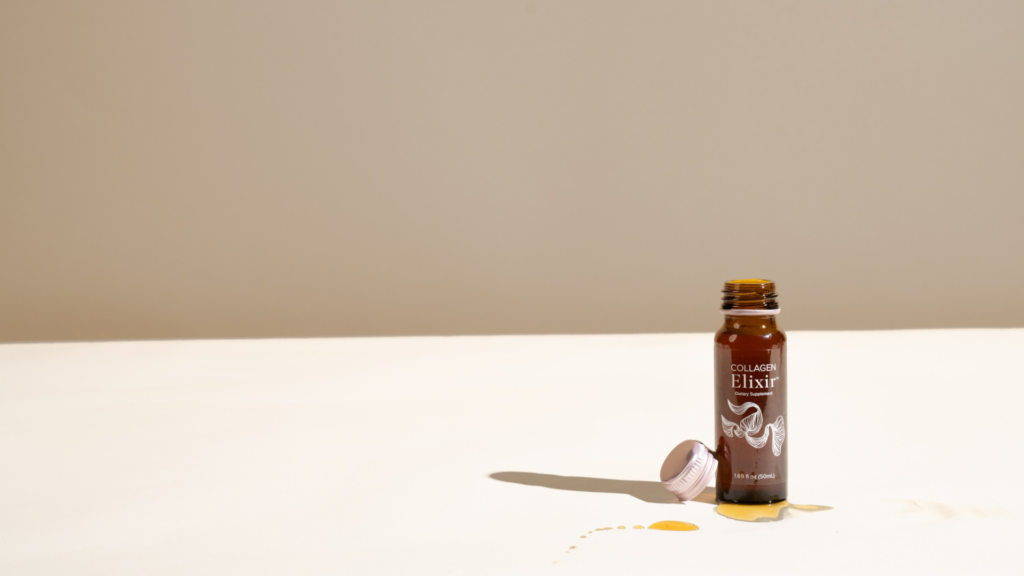 5 grams of marine collagen peptides
Collagen supports a glowing, youthful appearance.
Beaming biotin
A fantastic boost for your hair and nails.
Vitamin C and zinc
To help protect precious cells and help promote collagen synthesis.
Ancient beauty blend
Aloe vera, chamomile, and superfoods acerola berry and goji berry give the power to soothe and glow.
0 grams of added sugar
Nature's own sweetness infused with wild berries and a hint of botanicals.
SHARE YOUR CLIENT LOVE
"Seeing so many people's results had me excited to compare my own."
I've been loving how soft and hydrated my skin is. No chapped lips! My heels are super smooth! My skin is firmer, eyes brighter!
– Kim
"This collagen has been the best thing I have ever done for my overall wellness from the inside out! "
I am 58, eat well and exercise regularly but I was very sad about how my skin was aging. I could barely look in the mirror while brushing my teeth!! This collagen has been the best thing I have ever done for my overall wellness from the inside out!
– Sonya