Ease Stress With Exercise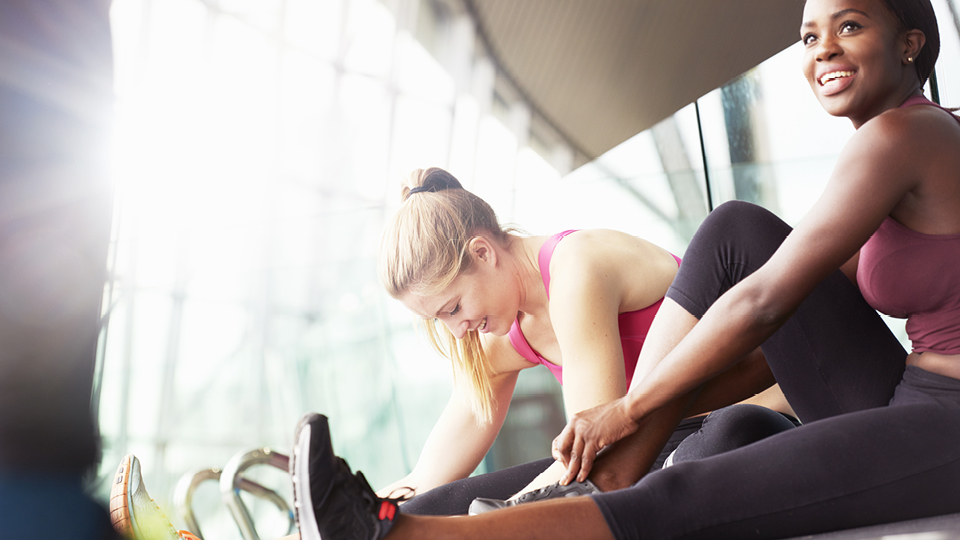 Creating a lifelong and consistent exercise routine is paramount for a healthy lifestyle. Reducing body fat, increasing muscle mass, and maintaining an efficient metabolism are just a few of the benefits of exercise. Exercise also happens to be an excellent tool for promoting stress reduction.
Everyone experiences stress from time to time. Different types of stress carry various physical and mental health risks. However, long-term stress poses the most significant risk, as continued strain on your body may contribute to serious health problems. Chronic stress can contribute to heart disease, high blood pressure, diabetes, and other health problems, including mental health concerns such as anxiety (1).
Unfortunately, stress and anxiety affect many people and are generally more common among women than men (2-4). Many individuals who experience stress and anxiety also report being less physically active (5, 6). When feeling stressed, making time for exercise can seem like the lowest priority. While exercise may require effort, a little can go a long way. In fact, it's an important strategy to ease the burden of stress-related conditions, both when it comes to prevention (7-9) and alleviating its symptoms (10).
While making time in your day for exercise or even mustering up enough motivation for a workout may not be the easiest, it helps. You don't even have to begin with a strict workout regimen or exhaust yourself with a high-intensity effort. Just getting out and being consistent is the most critical first step.
One straightforward way that exercise promotes stress reduction is by providing an opportunity for rejuvenation. Sometimes taking a break and focusing on yourself or enjoying time with your exercise buddies is mentally relieving. Effectively, exercise pre-occupies the brain and offers a distraction from stress-provoking thoughts (11).
Almost any type of exercise works, although activities that activate large muscle groups like going for a jog or taking a brisk walk may work best. This type of exercise is classified as aerobic, meaning it improves the efficiency of the cardiovascular system to absorb and transport oxygen.
Aerobic exercise also improves brain functioning by positively impacting its chemistry. For example, individuals with higher cardiovascular fitness have a lower cortisol response when subjected to stressful situations (12). Exercise is also known to increase brain derived neurtrophic growth factor, a brain chemical that appears to decrease in people with anxiety conditions (13). Preliminary research in mice indicates that increased levels have been linked to reduced anxiety following exercise (14, 15).
While exercise is not a replacement for care provided by a medical professional, it is a practical step you can take to help manage stress. Start slow, be consistent, and set attainable goals over time.
References
National Institute of Mental Health. 5 Things You Should Know About Stress. Source: https://www.nimh.nih.gov/health/publications/stress. Accessed September 24, 2021.
Baxter AJ, Scott KM, Vos T, Whiteford HA. Global prevalence of anxiety disorders: a systematic review and meta-regression. Psychol Med. 2013 May;43(5):897-910.
Craske MG, Stein MB. Anxiety. Lancet. 2016 Dec 17;388(10063):3048-3059.
Brunes A, Gudmundsdottir SL, Augestad LB. Gender-specific associations between leisure-time physical activity and symptoms of anxiety: the HUNT study. Soc Psychiatry Psychiatr Epidemiol. 2015 Mar;50(3):419-27.
Hiles SA, Lamers F, Milaneschi Y, Penninx BWJH. Sit, step, sweat: longitudinal associations between physical activity patterns, anxiety and depression. Psychol Med. 2017 Jun;47(8):1466-1477.
Stubbs B, Koyanagi A, Hallgren M, Firth J, Richards J, Schuch F, Rosenbaum S, Mugisha J, Veronese N, Lahti J, Vancampfort D. Physical activity and anxiety: A perspective from the World Health Survey. J Affect Disord. 2017 Jan 15;208:545-552.
Nyberg J, Henriksson M, Åberg MAI, Rosengren A, Söderberg M, Åberg ND, Kuhn HG, Waern M. Cardiovascular fitness in late adolescent males and later risk of serious non-affective mental disorders: a prospective, population-based study. Psychol Med. 2018 Feb;48(3):416-425.
Schuch FB, Stubbs B, Meyer J, Heissel A, Zech P, Vancampfort D, Rosenbaum S, Deenik J, Firth J, Ward PB, Carvalho AF, Hiles SA. Physical activity protects from incident anxiety: A meta-analysis of prospective cohort studies. Depress Anxiety. 2019 Sep;36(9):846-858.
Ströhle A, Höfler M, Pfister H, Müller AG, Hoyer J, Wittchen HU, Lieb R. Physical activity and prevalence and incidence of mental disorders in adolescents and young adults. Psychol Med. 2007 Nov;37(11):1657-66.
Ensari I, Greenlee TA, Motl RW, Petruzzello SJ. Meta-analysis of acute exercise effects on state anxiety: An update of randomized controlled trials over the past 25 years. Depress Anxiety. 2015 Aug;32(8):624-34.
Mikkelsen K, Stojanovska L, Polenakovic M, Bosevski M, Apostolopoulos V. Exercise and mental health. Maturitas. 2017 Dec;106:48-56.
Wood CJ, Clow A, Hucklebridge F, Law R, Smyth N. Physical fitness and prior physical activity are both associated with less cortisol secretion during psychosocial stress. Anxiety Stress Coping. 2018 Mar;31(2):135-145.
Suliman S, Hemmings SM, Seedat S. Brain-Derived Neurotrophic Factor (BDNF) protein levels in anxiety disorders: systematic review and meta-regression analysis. Front Integr Neurosci. 2013 Jul 29;7:55.
Lapmanee S, Charoenphandhu J, Teerapornpuntakit J, Krishnamra N, Charoenphandhu N. Agomelatine, venlafaxine, and running exercise effectively prevent anxiety- and depression-like behaviors and memory impairment in restraint stressed rats. PLoS One. 2017 Nov 3;12(11):e0187671.
Onakomaiya MM, Porter DM, Oberlander JG, Henderson LP. Sex and exercise interact to alter the expression of anabolic androgenic steroid-induced anxiety-like behaviors in the mouse. Horm Behav. 2014 Jul;66(2):283-97.