Published Study: Collagen Elixir Substantially Improves Facial Skin Appearance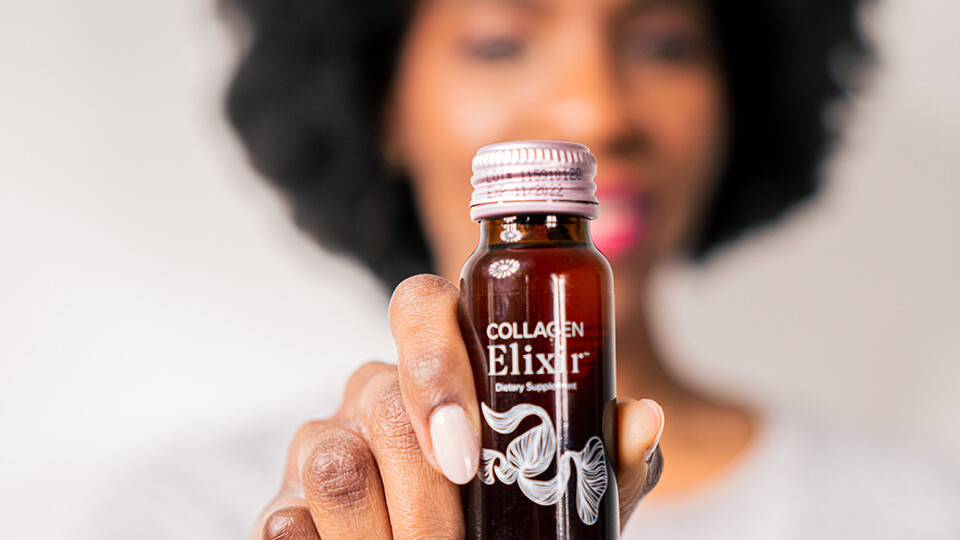 Isagenix's Collagen Elixir™ is a scientifically formulated cosmeceutical that blends marine collagen peptides, goji berry, acerola cherry, and aloe vera extracts with skin-supportive nutrients such as vitamin C, zinc, and biotin.
In collaboration with expert nutrition and cosmetic scientists from Chia Nan University in Taiwan, Isagenix has clinically demonstrated the skin health benefits of Collagen Elixir in a randomized, double-blind, placebo-controlled trial. The study was recently published in the Journal of Food Science and Nutrition.
Researchers designed a rigorous 4-week investigation using sophisticated imaging and detection technologies. The 60 adult study participants were randomly assigned to consume either Collagen Elixir or a placebo beverage daily for four weeks. No skin irritation or adverse reactions were reported with Collagen Elixir.
As part of the study design, the researchers selected measurements related to normal chronological aging and accelerated sun damage-induced photoaging in skin.
Study Measurements Targeted Skin Structure, Function, and Appearance
Each study participant underwent extensive facial imaging and analyses before the study began and after four weeks of supplementation. The study evaluated:
Collagen Density
The density of collagen in the deep layers of the skin decreases with age, contributing to many visible signs of aging in the skin. A high-resolution ultrasound device designed for scientific skin analysis was used to assess changes in collagen density.
Skin Elasticity
The skin's elasticity decreases with age, resulting in a lax or "saggy" appearance. Elasticity was evaluated with a specialized probe designed to detect changes in the skin's ability to stretch.
Fine Lines and Wrinkles
Increasing lines and wrinkles are one of the hallmarks of aging in skin. A precision facial scanning instrument was used to measure surface skin conditions and provide a precise evaluation of the presence and depth of wrinkles.
Skin Moisture
The skin's ability to retain moisture decreases with age, leading to greater dryness and an enhanced appearance of existing wrinkles. Changes in skin hydration were measured with a specialized sensor that detects hydration at the skin's surface with a tiny electrical current.
Hyperpigmentation
Hyperpigmentation describes darker patches or spots on the skin resulting in uneven skin tone. Researchers evaluated several measures of hyperpigmentation, including an assessment of overall skin tone, brightness, and visible dark spots. UV light photography was used to measure UV skin spots which are a sign of sun damage invisible under normal lighting.
Key Findings from the Study
Researchers documented impressive changes in study participants' skin, including increased collagen density, skin elasticity, moisture, and brightness at the end of the 4-week study. Other findings included reducing wrinkles and visible and UV spots.
Increases in Collagen Levels
The study found that Collagen Elixir significantly increased facial collagen density in the participants after four weeks of daily consumption.
Improvements in Elasticity and Moisture
Daily consumption of Collagen Elixir resulted in a significant increase in both elasticity and moisture in facial skin among study participants.
Reductions in the Appearance of Wrinkles
After four weeks, 70% of participants experienced a measurable reduction in wrinkles.
Reductions in Hyperpigmentation, Including Visible and and UV Spots
Consuming Collagen Elixir led to a reduction in measures of hyperpigmentation, including a reduction in both visible and UV spots compared to the participant's baseline measurements. Other benefits included improvements in skin tone, with a significant increase in skin brightness after four weeks of supplementation with Collagen Elixir.
Overall, consuming Collagen Elixir resulted in widespread skin health benefits, with 100% of subjects having increased collagen levels, 90% with increased moisture, 97% with greater elasticity, and 70% of subjects exhibiting fewer wrinkles after four weeks of supplementation.
Reference
Lin YK, Liang CH, Lin YH, Chan ST, Gumpricht E, et al. (2022) Anti-Aging Effects of Hydrolyzed Collagen Beverage with Herbal Extracts on Facial Skin: A Double-Blind, Randomized, Placebo-Controlled Trial. J Food Sci Nutr. 8: 128.